Our volunteers play a vital role in keeping Heronswood growing strong. Along with contagious enthusiasm, they bring a wide variety of talents and skills that greatly benefit the garden. The primary volunteer categories we currently have are Event Volunteers and Week, Walk & Talk Volunteers. New volunteers will be asked to sign a liability waiver and to provide an emergency contact before volunteering in the garden.

Event Volunteers
Event Volunteers help in a variety of ways during our garden opens, public plant sales, and other special events. They serve as garden greeters and docents, assist with admissions and ticketing, help sign up new members, and even dress up in costume during Haunted Heronswood to guide visitors! While our Weed, Walk & Talk volunteer activities require good balance and flexibility for work in the garden. Many of the Event Volunteer opportunities allow our
volunteers to spend their time interacting with garden visitors and fellow plant enthusiasts.
For more information, email Heronswood's Volunteer Coordinator Debby Purser at [email protected]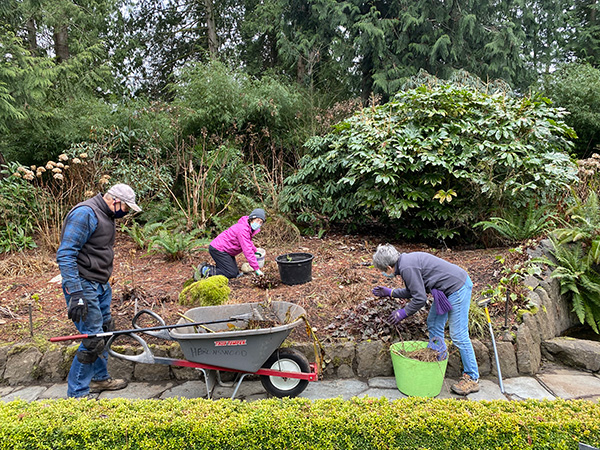 Weed, Walk & Talk volunteers helping with critical garden weeding.
Welcome Desk and Ticketing
On days when the garden is open to the public we rely on our amazing volunteers to staff our welcome desk and ticket booth. Duties include greeting and orienting visitors, taking payments, recording attendance, answering the phone, caring for retail plants and facilitating new memberships. Training is provided and Heronswood staff are available to help whenever required. So if you enjoy working with people and plants, get in touch with Volunteer Coordinator Debby Purser at [email protected]

Weed, Walk & Talk
Weed, Walk & Talk days include hands-on fun in the garden and, time and weather permitting, either a presentation related to horticulture or a walk through the Garden with discussions on what is observed. These Volunteer work days run from 9:00am to 3:00pm and there is no charge. Volunteers should bring their own gloves, preferred hand tool, a bag lunch, water bottle and hot drink if desired. The work we are doing requires the ability to kneel, bend, reach, and have good balance. We request that you are in good physical condition. At this time, we do not have any standing only activities for volunteers on Weed, Walk & Talk days. We mask up and observe social distancing. For more information, contact Heronswood's Volunteer Coordinator Debby Purser [email protected] .
2023 Weed, Walk & Talk Calendar
| Month | Dates |
| --- | --- |
| March | Tuesday the 14th, Monday the 27th |
| April | Tuesday the 11th, Monday the 24th |
| May | Tuesday the 9th, Monday the 22nd |
| June | Tuesday the 13th, Monday the 26th |
| July | Tuesday the 11th, Monday the 24th |
| August | Tuesday the 8th, Monday the 28th |
| September | Tuesday the 12th, Monday the 25th |
| October | Tuesday the 10th, Monday the 30th |
| November | Tuesday the 14th, Monday the 27th |
| December | Tuesday the 12th |